This article gives you a step by step guide on how to setup Google Tag Manager with your heyflow.
Google Tag Manager is a tag management system that allows you to quickly and easily update and manage tags on your website or mobile app.
If you are new to Google Tag Manager, click
here
to create a new account. Then, return to this guide and skip to Step 3 - creating a new container.
1.Open your
Google Tag Manager
dashboard and select any container within the account you would like to create a new container in.
2. Click on
Admin
on the top left.
‌2. On the right-hand side of the window, click on the
plus sign
to create a new property.
3. In the Create Container field, enter any name as the
Container name
. This name is simply for you to identify the container later. As a
Target platform
, choose
Web
. Then, click
Create
.
4. You will then be redirected to Google Tag Manager Overview Dashboard.
5. On the top right, the
Container ID
is displayed, which you can copy to your clipboard by right-clicking on the ID and select
Copy
6. Switch to
go.heyflow.app
, open your flow and navigate to the '
Integrate
' tab at the top of the Heyflow editor.
7. Select '
Analytics
' from the sidebar on the left.
8. Paste the Container ID to the Google Tag Manager section and click
Save
.
Make sure that there are no extra whitespaces before or after the ID code in the text field after pasting it.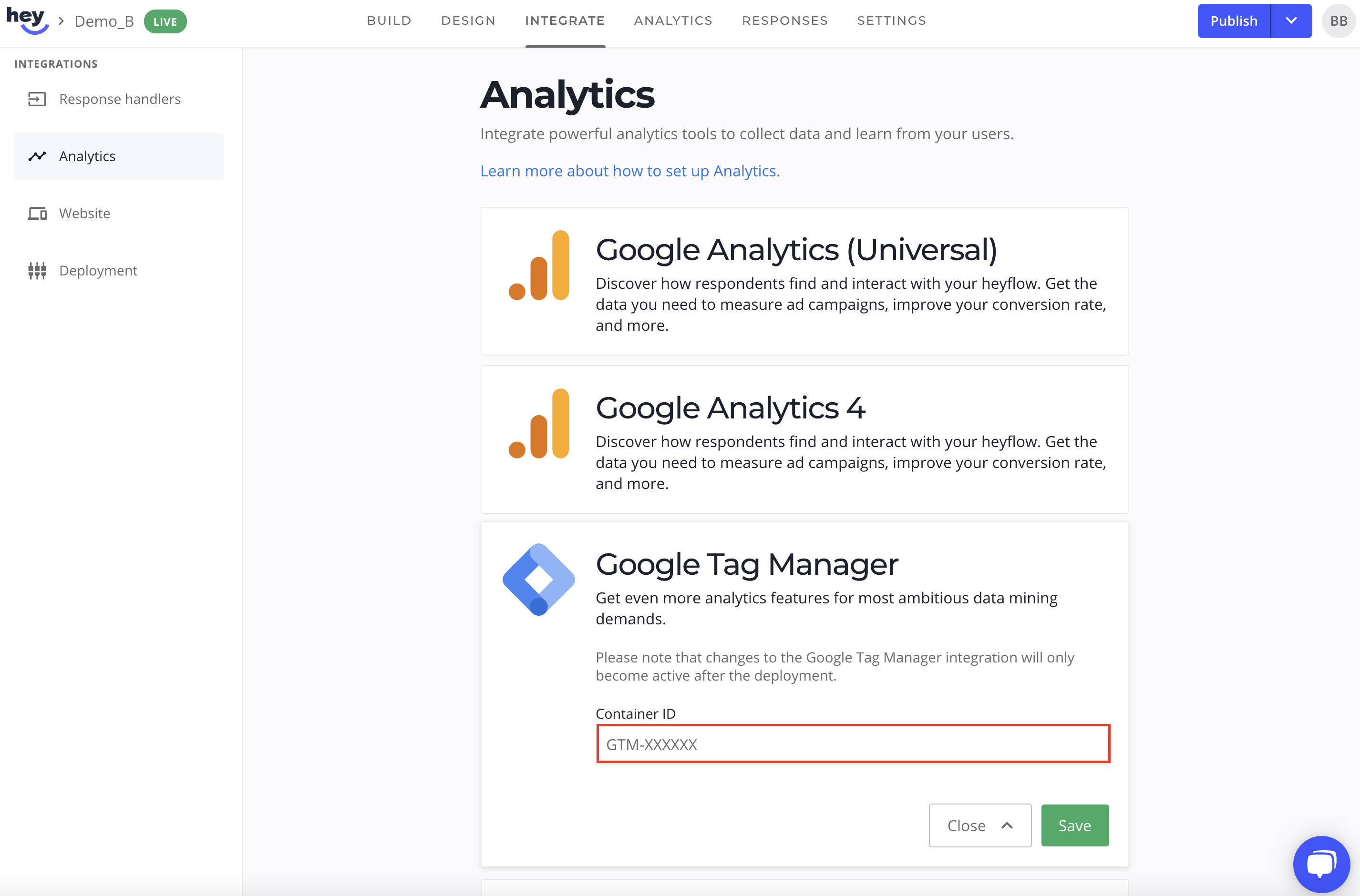 9. Click the
Publish
button in the top right corner to publish your flow.
Google Tag Manager will only work after you
save
the updated integrations
and
you have
published
your flow.
10. Switch back to your Google Tag Manager editor and navigate through the different options on the left sidebar. There, you are able to set any tags, triggers, or variables needed for your website.
11. For a kickstart, we have created a container configuration for you to import into your container. This container configuration already has the most important tags and triggers set up for you.
Click here to download the file
. (Depending on your browser, the file might not automatically download. In that case, simply save (CTRL + S or CMD + S) the file to your computer. Make sure it ends with
.json
).
12. Once downloaded, navigate to
Admin
located at the top left of the Google Tag Manager dashboard and select
Import Container
listed in your container settings.
13. Import the downloaded file by clicking
Choose container file
.
14. Choose which workspace you would like to set the tags and triggers to take place. We recommend
Existing
. Then, select
Default Workspace
.
15. Next, choose whether you would want to overwrite your current configuration with the Heyflow basic configuration or merge them. We recommend
Overwrite
.
Selecting
Overwrite
will – unsurprisingly – overwrite your current changes. If you have an existing setup and you want to combine it with Heyflow, you can
Merge.
However, we advise you to have a Container dedicated to your flows only to ensure correct results and no conflicts.
16. Once you approve of the changes, you can click
Confirm
to import the container.
17. You will be redirected to the Google Tag Manager dashboard, where you will see the Submit button located on the top right of the dashboard. Click the
Submit
button.
18. You are then able to name the current version. Make sure that the environment is set to
Live
(located at the bottom of the window). You can then
Publish
your version using the button located on the top window.
You have to submit and publish an initial version of your container before you can use the preview.
19. You will then be directed to a summary dashboard of all the tags, variables, and triggers you have set up, which are all live.
Great! You are now all set up to manage your tags, triggers, and variables using Google Tag Manager. Feel free to modify your container according to your needs.
You can also integrate Google Analytics 4 with your Google Tag Manager. Navigate to our '
Google Analytics 4 Setup
' page to get started!